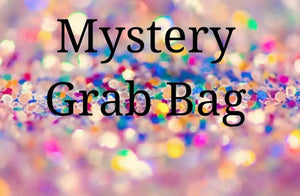 ** S-3X MYSTERY GRAB BAG EVENT! ** Final Sale / No Returns, Refunds, or Exchanges
We know you LOVE surprises and a great deal! That's what these mystery bags are for! Each bag contains a minimum of 3 items, chosen at random FOR ONLY $35! That's LESS THAN $12 an item! Our mystery bags could be an awesome gift for yourself or a great gift to give!
** SIZES: S, M, L, XL/1X, 2X, 3X **
So many amazing pieces! Keep them all for yourself or 'Pay It Forward' by sharing with someone!
Some pieces you've seen, others you haven't - it's a surprise!
No two bags are the same - your bag may contain all tops or a mix of tops, dresses, bottoms, vests, cardigans, graphic tees, jewelry/accessories(we'll only include one accessory per bag if added)!
There is no way to guarantee you won't receive something you already have or the perfect fit(we hope it does!), but for this discounted price, you can't beat it! Makes great gifts too!
NO RETURNS / EXCHANGES / REFUNDS / DISCOUNTS - ALL SALES FINAL
---
We Also Recommend